Following on from my 2007 web statistics, below is a summary of what the site saw in 2008.

In 2006 the site had about 95,000 visitors come to the site, which grew in 2007 to around 145,000. With the change in blogging habits through 2008, coupled with the fact that I moved my future technical posts onto a different domain – the site had a slight decline and only saw 134,921 visits over the year. The roughly 135,000 visits generated 176,206 page views which is slightly less page impressions per user compared to last year.
The spike in visits towards the end of May was driven by a burst of interest in zorbing from the United States. It was spread across the different states, however New York drove the most interest for the fun adventure activity. The significant decline toward the end of the year was, not surprisingly driven by a decline in search traffic from Google. There was no single set of search phrases that declined, everything dropped pretty much across the board. The only thing I can attribute it to was that I changed my web hosting midway through November. I was still with the same web host, however the specific web server was different – which hadn't been changed in a number of years. Fortunately, the search traffic from Google began to recover in January 2009 but it still has some ground to make up yet.
The traffic breakdown for 2008 still reflects the complete dominance that Google holds in the web search space. In 2006, Yahoo! was the first non-Google search engine to show its face at position #11 which improved to five in 2007.  Yahoo! have improved their traffic driving potential in 2008 and now sit at position four. Without checking the numbers, it looks as though Yahoo! made it into position four simply because Google Image Search within Australia declined a little. However, in 2007 Yahoo! drove about 1.6% of the traffic of Google web search, which has increased in 2008 to about 2.5%. Great to see such a strong percentage increase for Yahoo!, however they still aren't competing in web search within Australia.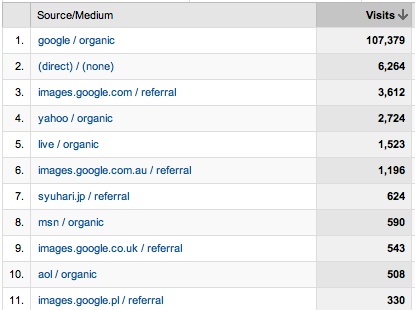 The most popular posts for the year looks similar to 2006 & 2007, however with a single newcomer:
Given that the same or similar posts have shown up as the most viewed for three years running, it would seem a reasonable assumption that they will again in 2009 unless I start writing about different topics. With that in mind, following is a revised top five list excluding the repeat above:
Removing the heavy hitters certainly changes the landscape, now I just have to wait another nine months to see what the rest of 2009 is going to bring.