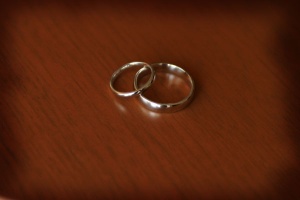 In 2005 when Claire and I were married, everything was shiny new – including our wedding rings. Over the last couple years, our wedding rings have become increasingly dull compared to their former glory.
While in Brisbane today, Claire dropped them in to get re-plated. I guess I'd become used to their appearance as they were, because when I put my wedding ring back on today – I couldn't believe the luster the gold had after being re-plated, buffed and polished.
While the refreshed wedding bands really do shine now, they don't compare against the diamonds in Claire's engagement ring. As with the dull appearance of the gold, despite Claire cleaning the diamonds periodically – it appears that they were still very dirty. After coming back from the jeweler, the diamonds absolutely glisten! I'll have to get a photo, just as a reminder so we don't wait so long between getting our wedding rings serviced.