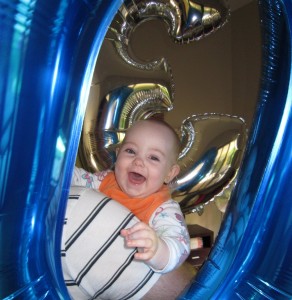 It seems like I only just wrote about Evie being six months old, however that was a month ago already!
December was an eventful month for Evie, as she learned how to balance sitting up on her own. While by no means an expert, as she'd still over balance periodically – I think Evie really enjoyed being able to sit up as it gave her a different perspective on the world; after all, you're bound to get sick of laying on your stomach or back sooner or later. While Evie can roll over front and back now, she is still completely uninterested in getting up onto all fours and crawling – maybe next month?
In addition to learning to sit up unassisted and balance, Evie also began using her legs more and more as well. This saw her standing up, like a big girl – though still with a lot of support from Claire and I.
Eight months here we come!