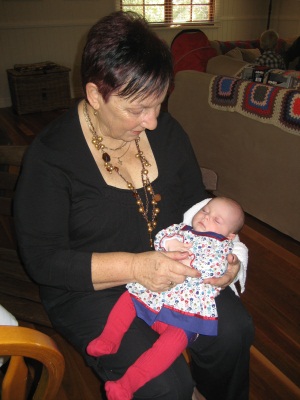 Evie has now been mixing it with Claire, Hugo & I for a whopping two months.
It is a strange feeling in a way, sometimes I think to myself it feels as though it was only yesterday that Claire and I were in at Pindara Private Hospital for the birth and other times, it seems as though it is nearly a distant memory already. Putting a little thought behind why that might be, I think the latter is because we've done it before – there isn't that first time parent panic or uneasiness with everything you do.
During the last six weeks since Evie was 2 weeks old, a lot has happened as you can imagine. Probably the most significant departure from our 'plan' is that while Claire had every intention to breast feed Evie for the forseeable future – her body just didn't want to play ball. Claire battled through a few bouts of mastitis and after the last one we decided to call it a day. While I understand why it's disappointing for women & mothers, however it can actually be a good thing in the long run as now the men can lend a hand. I love feeding Evie and it lets me get close to her, in a similar way as breast feeding does for a mum – so I think that is great. The other obvious advantage is that we can share the load and it takes a whole lot of pressure off of Claire – she can leave the house without the kids now and that isn't actually an issue – though I wish that'd happen more often than it does.
| Date | Weight | Length | Head Circ |
| --- | --- | --- | --- |
| 18/5/2010 | 3.60Kg | 49cm | 33.5cm |
| 21/5/2010 | 3.41Kg | | |
| 3/6/2010 | 4.04Kg | | |
| 2/7/2010 | 4.84Kg | | |
| 14/7/2010 | 5.22Kg | 57.5cm | 37.3cm |
| 21/7/2010 | 5.69Kg | 58.5cm | 38cm |
When Hugo was born, Claire and I thought ourselves very lucky because it didn't take long before we had Hugo in a little routine that worked well for him. Before we knew it, I was waking him up for a dream feed, putting him back to bed and we wouldn't hear a peep out of him until around 7AM. We figured with such an excellent run with Hugo, what'd be the chances that we'd have that sort of fortune with Evie – well it turns out very likely. By about the 4 week marker, we began moving the feeds around to match the schedule in Save Our Sleep that we used with Hugo and badda-bing badda-boom, happy baby that sleeps through the night! There are a bunch of different baby books around and after seeing what can be accomplished by following a schedule, I couldn't recommend it highly enough to a new parent – you'd be punishing yourself for no reason by not reading one.
More to come, stay tuned.