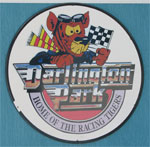 On the weekend of the 17th September, we upheld the long standing tradition of a Bucks Party for the Groom. We decided to break the day into four main parts:
Go Karting
Drinking
We turned up to Darlington Park Raceway at about 8.30 in the morning for a package event. It included a warm up, qualifying, three races and a final. The circuit was fantastic, sitting just down from the crest of the hill. It was fast, without being too straight and very interesting to drive with all of the up and down sections; one of the most entertaining and fun circuits I've ever raced on in a go-kart.
I didn't place at all, though I had a blast. The standout driver across the races was without a doubt, Danny. He was consistently faster than everyone else on the circuit, at times up to 2 seconds per lap – with times in the 62 second area.
There were plenty of thrills, I know I went in too deep into a corner and broadslided into my older brother Andrew. Meanwhile, Brendan had some sort of a break failure (which we all thought was worth a good laugh afterwards), in the fastest section of the track. Fortunately, or unfortunate, depending on how you look at it – there were no spills.
All and all, it was an excellent morning of racing and I think everyone had a great time.