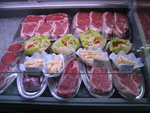 After racing go karts all morning, we were hungry and definitely parched – enter Ashmore Seafood & Steak. I had heard from two different people that the food was good and the servings plentiful, so it seemed like an excellent place to pull up a stump and relax for an hour or two.
I had never been to Ashmore Seafood & Steak to dine, I've only ever driven past, so I had no idea what to expect. When we arrived, the venue itself was huge – much larger than I had pictured from the road (shot taken outside from doors). When we arrived, the service was prompt and we were seated immediately.
After a few minutes of chatting and getting the first beer down, we all ordered. The food came out in reasonable time, considering there were a bunch of us. What none of us could have expected though, was the size of the meals – they were massive! Most of us ordered some sort of steak and they had to have been knocking on 500gm in weight, maybe more. Andrew placed his spanned hand over the top of his steak and it was bigger in every direction, if that helps to give you an idea of the size. The steaks were nice, though the meat could have been a little more tender; however I think I'm a little spoilt in that department.
We ate, drank beer, chatted and then rolled out to the cars. Below are a bunch of group shots taken by Brendan:
Next stop, RaceNutz!