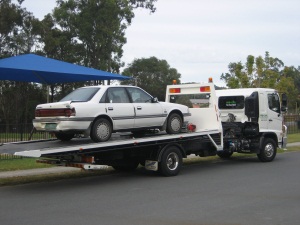 After being involved in a car accident on the Gold Coast M1 in late June, my trusty 1989 Ford Telstar Ghia has been written off by my car insurance company.
I've been tottering around in the Telstar for the better part of 10 years and only now is the odometer finally approaching 200,000 kilometres.
George & Jude bought it for me as my first car while I was at university, which was a massive upgrade from the family Ford Falcon XM ute with distinctive blue cobra stripes. It was powered by a 2.2L 12 valve 4 cylinder engine, which even in its hay day probably wasn't the most performant engine, nor particularly free revving – however I suspect that might have been part of its recipe for longevity. I still remember how excited I was, especially when I realised that it had a velour interior, power windows, power mirrors and wait for it, oscillating air conditioning vents in the front!
In that time, I really haven't had any major problem with the vehicle either mechanically, in the interior or on the exterior of the car. It gets serviced once or twice a year, I put fuel in it and it just goes. On the mileage front, in my mix of highway and city driving to and from work, I get approximately 500km from a tank of fuel and over 550km if its strictly on the highway.
I'll miss the Telstar, it has been a great little car and served myself and Claire really well over the years. Now I just need to find an adequate replacement and hope that I have a hassle free existence with it as the Telstar has provided.