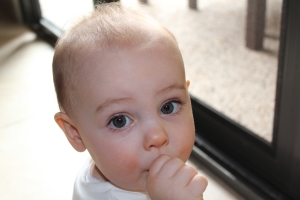 Time sure flies when you're having fun, it is hard to believe that Evie Charlotte Lattimore has reached her second major milestone – turning 1 year old!
The last year has been amazing with Evie in our lives, Claire & I have certainly been blessed. When Hugo was born, Claire & I couldn't believe how lucky we were that Hugo was a good baby and figured our luck would run out on our next one for sure. As it turned out, I think Evie is even more relaxed than Hugo was and just goes a long to get along. We break her routine and schedule regularly and she doesn't mind, misses a morning sleep semi-regularly and doesn't seem to care too much and from time to time will even miss an afternoon sleep as well for special occasions and just keeps on trucking.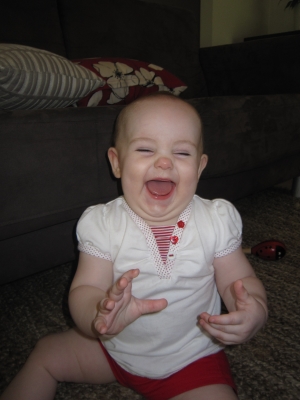 Evie has been a great sleeper, just like Hugo was – in fact I think better as she tolerates even more noise around the house and it doesn't unsettle her. We followed the same basic strategy from Tizzie Halls amazing Save Our Sleep book again and it all just clicked. We pop Evie down for her naps, put her music on and give her a favourite bunny and usually within a few minutes she has self settled & is sound asleep – fantastic!
One thing that Evie has dropped the ball on compared to Hugo has been her movement, the concept of crawling for Evie just seems foreign. We'd been told by countless friends that girls do all of that much sooner than boys do, so we were expecting to have Evie crawling around feverishly from 6 months but it didn't happen. We've now just passed the 1 year old mark and she is a proficient bottom scooter but refuses to crawl. In the last week or two she has been making a few attempts that kind of look like the beginning of crawling but no actual movement has happened as a by product yet. On the flip side, she does love standing and walking along hanging onto a little finger – so maybe she'll walk before she can crawl.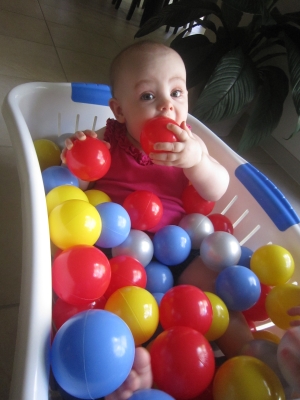 So far we've been really lucky with food, Evie will eat anything we put in front of her, even cream cheese as I found out by mistake! With Hugo, we started out quite well but by his first birthday his eating became more and more fussy and simply refused to eat foods that he'd loved previously. We don't have any idea why that happened and Claire tried countless different things to get him to eat the food that we wanted but it just didn't happen unfortunately. At this stage, Evie is still going gangbusters eating everything so hopefully that'll continue into the future.
Watching Evie and Hugo play together has been great, Evie absolutely adores Hugo. To begin with Hugo wasn't all that keen on Evie joining our family but soon warmed up to the idea and now Hugo gives Evie kisses all the time. As Evie has matured and her personality has developed, their interactions have become more complex. For reasons only known to Evie, Hugo and only Hugo has the ability to make her laugh, chuckle and cackle like no one else can.  I can only imagine what is going to happen when Evie gains her independence with walking, she'll be chasing Hugo around the house constantly and wanting to do everything that he does.
I really can't wait to see what the next year brings with Evie, it is going to be exciting to see her continue to develop and I think that she is going to be best friends with Hugo.