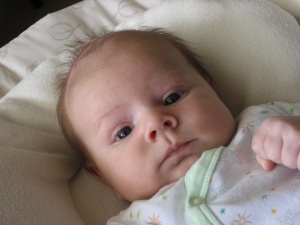 Amazing how your life can change in a heart beat, only two months ago Claire and I were not parents and now it nearly feels as though we're getting towards being 'experienced' in this whole parenthood thing; scary concept!
Since the last update when Hugo was 1 month old, a lot has changed – in fact it feels as though things are pretty much changing daily. The most obvious change is how fast he is growing:
| Date | Weight | Length | Head Circ |
| --- | --- | --- | --- |
| 4/9/2008 | 3.84Kg | 52.5cm | 35cm |
| 17/9/2008 | 4.01Kg | | |
| 24/9/2008 | 4.14Kg | | |
| 1/10/2008 | 4.41Kg | | |
| 15/10/2008 | 5.34Kg | 61cm | 38cm |
| 22/10/2008 | 5.64Kg | | |
| 29/10/2008 | 6.13Kg | | |
| 4/11/2008 | | 64.5cm | |
| 12/11/2008 | 6.84Kg | | |
When he was born, his length and weight were just a tad over the normal. By the time we made it to the six week check up on the 15 October, his figures put him over the 90th percentile – especially his length. Another couple of weeks have passed, he is still increasing the figures and now doesn't register on the height/weight charts!
During the last month, Hugo has also started to find his voice which is exciting. He is now ohh and ahh'ing, which is very cute and has also started to laugh – though can only muster a smallish version at the moment. With the good comes the bad, in that he now has more than one type of cry – one of which isn't all that pleasant on the ears – fortunately he doesn't feel compelled to bring that one out very often.
Hugo's strength and coordination have also improved quite a bit in the last fortnight as well. He is starting to help out by holding his bottle, though can't quite hold it on his own yet. I was surprised to find out last week that he has enough strength in his legs to completely support his weight and can even get himself back into the standing position from a squat!
I can't wait to see what changes in the next four weeks; one thing I can be quite sure of is that he'll have outgrown his triple-0 sized clothes and will be into the double-0.