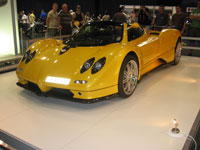 The 2006 annual Brisbane International Motor Show was held from the 3rd March through the 12th March and there was a reasonable showing this year.
All of the obvious show ponies where there, including: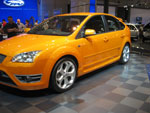 I was happy to see the new Ford Focus XR5 in the flesh after it received such a glowing review from Top Gear in the UK. The new Focus XR5 sports a powerful 166kW/320Nm 2.5-litre turbo charged five cylinder engine partnered to a slick six speed manual gearbox. I can just about hear the aftermarket manufacturers pencils on paper already!
In the cool factor where:
The most exotic of super cars on show was the Pagani Zonda (1, 2), which was an impressive car to see in the flesh after the onslaught of excellent press it has received. I was disappointed not to see the Bugatti Veyron there, however with such a limit supply – I can understand why.