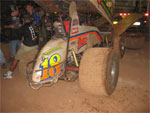 The weekend of the 4th & 5th of February saw the Brisbane International Speedway host the Australian Sprintcar Championships. Approximately 50 drivers turned up for the event, which was an excellent turnout.
At the start of the evening on Saturday, the track conditions where poor and far too wet. The first heat held for the sprintcars was actually re-run, as the drivers and event organisers felt they were at an unfair disadvantage running first. It was so wet in fact, that there was nearly a 30 second difference in a 12 lap race between the start and end of the night. As the evening progressed, the sprintcars wore the raceline in and they soon started to grip up as expected.
The large turnout of cars ended up causing some problems. Each heat was running about 12-14 cars and it was a little too tight; the by product of course was a seemingly never ending string of accidents. The additional accidents consumed more time than expected and as the clock kept clicking towards the curfew, events were dropped from the program in an attempt for us to finish on time.
Once the track dried out and the sprintcars started to get good grip, there was plenty of great racing taking place. On the whole, I don't think they weren't quite as fast as the World Sprintcar Series event held there towards the end of 2005. The single biggest downside to the event this time was parking, what a nightmare. Expecting that we'd be able to get out of the car park in reasonable time, we parked inside the venue. We received a rude surprise when we sat at a stand still for nearly 25 minutes waiting to get out of the car park. Next time, I think we'll park outside and toward the main road – it'll make for a much more convenient getaway.
Next on the motor racing calendar will be the Winter Nationals at Willowbank Raceway in June!
Videos
Opening 3 laps, looking primarily at turn 3, 4 and main straight. If you're having trouble watching the embedded video below, you can view the first three laps of the Australian Sprintcar Championships directly on YouTube.
Opening 3 laps, looking at turn 1 and 2. If you're having problems viewing the embedded video below, you can watch the Australian Sprincar Championship directly on YouTube.
Photos