Today I enjoyed one of my 34th birthday presents from Claire, hot laps in a V8 Supercar!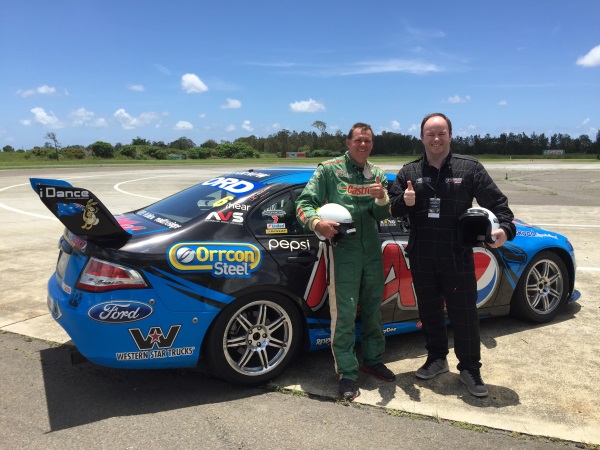 Performance Driving Centre are located on the Gold Coast at Norwell, which is on the eastern side of the M1 behind Ormeau. In addition to offering V8 Supercar experiences in both Ford and Holden vehicles, they also provide driver training in four different classes, karting, track days for you to drive your own car and corporate/business events!
When I arrived, like most events of this nature you sign your life away in a waiver. I was then led into another room to get into a race suit and find a helmet by V8 Supercar driver Steve Owen.
I was really fortunate as there weren't that many other people there, so as soon as I was dressed I walked out of the building and met my driver whose hands I was going to be placing my life in at over 200kph – Steve 'Robbo' Robinson who races V8 Utes.
Two minutes later I was pouring myself into a Ford V8 Supercar and getting buckled up by Steve Owen. The cars start their life as a road going vehicle and are upgraded into race cars with roll cages, bracing, V8 Supercar aero kits, wheels, tyres, brakes and suspension. The engine delivers over 400HP at the wheels and it's driven through a normal H-pattern gear box. I didn't ask Robbo if the gearbox was a Holinger or not (they come in H-pattern or sequential) but they use an H-pattern because as a customer you can book packages where you get to drive these beasts and a H-pattern is practical in that sense.
Before I knew it the engine fired up and we were away, roaring into the first turn and breaking hard. Initially I was expecting that it'd take Robbo an entire lap around the track to really start laying into it but before we got through the out lap, he was pounding through the corners are full noise.
The lateral forces are incredible, the fastest turn at the back of the track the car feels like it is on the edge of its grip but despite tearing over the top of the ripple strips – it stays the course and you get fired out the other side.
Probably the most impressive part of it though is the acceleration and breaking. As you come through the slower corner, the time it takes to shift through two gears at full RPM and then stomp on the break coming into the next corner is amazing, then its back on full throttle as soon as the vehicle hits the apex.
It was an amazing experience, I had a massive smile on my face the entire time we were in the car – I just couldn't believe how fast it was. It makes the speed sensation of pushing a go-kart to the edge through fast turns seems so slow by comparison (despite you being 2″ off the ground in a kart).
I've now got an entirely new appreciation for what a V8 Supercar driver goes through at a race track like Bathurst, as the real cars put out about 250HP more and are 400Kg lighter as well. This now makes all of the editorial that I've read over the years by journalists make so much more sense when they say they are a brutal assault on your senses and the power, handling and breaking just don't let up – ever!