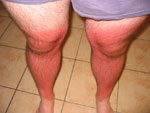 Today, myself and some friends joined Andrew for a fun day organised by his works recreation club to go go-karting. The event was held at Kingston Park Raceway, which is about half way across the Logon Motorway.
The day started with our group of about 45 drivers being split up into three groups, I ended up in Group A. From here we did about 10 practice laps around their 1100m track to get to know it. This was directly followed by our initial qualifying which would place us into the grid for the first of our 4 races.
Qualifying went well and I ended up on the 4th row of the grid (position 7). From memory, my initial qualifying time was about 1m04s around their track, which wasn't too bad. In Race 1, moved past 2 drivers in the race which was frustrating but it was the first time around the track with other drivers to overtake. Race 2, was done reverse grid on how you placed in Race 1; so if you finished first, you started at the rear of the grid. After the first race, my times around the track dropped considerably as I consistently drove under 1m00s unless held up by traffic, which I was pretty pleased about. Race 3 and 4 were also good, however I got tagged by a couple other drivers with was a little disruptive (causing me to spin), however was still lapping under 1m00s on the better laps and ended the day with a fastest lap time of about 0m58s.
The weather for the day was fine, which was excellent and about 26c. I didn't get burnt from the first two races, however when I came off the track after the third, I just felt hot. Well in the time between the third and fourth race (~30-40 minutes), I went a very bright shade of red and I was severely burnt. I was so burnt, I ended up putting a jumper on, just so I wouldn't get any more burnt on my arms, unfortunately for me, my legs copped a flogging.
Since I have returned, I've been lathering an Aloe Vera gel onto my legs as often as I can in a hope it will help ease the pain and burning as quickly as is possible. I guess the lesson from all this is that, even when it isn't 'hot' – you can still get severely burnt; next time I'll be sure to put sunscreen on.