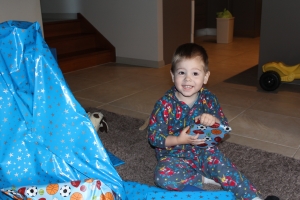 On Sunday, Hugo turned three years old and we celebrated in the usual fashion for our household with presents first thing.
When I went upstairs go get Hugo from his bedroom, he initially wanted to run downstairs to our bedroom to say good morning to Claire. I had to convince Hugo not to go downstairs (we had his presents set up in the lounge room) and to come and say good morning to Claire as she got Evie out of bed for the morning festivities. Hugo made me laugh as he walked down the stairs, saw the pile of presents wrapped up and said 'ohh, parcels!'.
Claire, Evie and I sat around Hugo while he took great pleasure in opening all of his little presents. Hugo received a few different types of presents from some books, a cricket bat & ball, Cars DVD but was particularly interested in his new three-wheel scooter, helmet and sunglasses.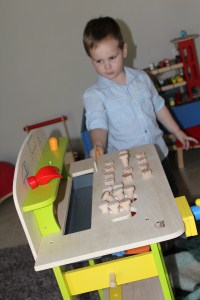 For lunch we dared to venture out to the Coffee Club at Oxenford. Claire called to check if we'd need a reservation and they didn't think we would; fortunately for us when we arrived while it was busy, it wasn't manic. To my surprise and delight, even though it was quite busy, the food was served in a very reasonable time – so congratulations to their staff for getting through everyone's orders.
Between lunch and mid afternoon while Evie was sleeping, Sterle, Lorraine & Jean came back to our place ahead of Hugo's party small gathering of people. This was a great opportunity for Hugo to receive a present or two from Sterle, Lorraine & Jean – a work bench with tools and a wooden toaster – my goodness he loves them to pieces! After the present, he realised it might be a good opportunity to get a head start on some party food, try out some of his new toys in greater detail and generally have a good old time.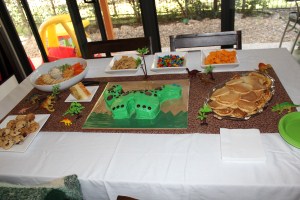 With near perfect timing, Jude, George, Emily, Oliver & Milla arrived to get our small gathering of people started. Last year Hugo had a barn yard party but this year it was time for a dinosaur party. There was a fantastic dinosaur cake, fierce dinosaur figurines and cool hanging dinosaur decorations for Hugo's dinosaur themed birthday party. Claire assures me that while the delicious dinosaur cake looks quite straight forward, it was actually quite a challenge to make – particularly getting the different pieces to stick together and the icing to look pretty!
The little people had a fantastic time playing with one another, charging around the house, playing with the new toys, eating plenty of party food all the while trying their hardest to stay out of trouble.
I now have a new found respect for parents who have climbers for kids. I've heard plenty of stories from Emily about how fast Milla is but I really didn't appreciate it until I saw it first hand – she can practically run. While speed is definitely one of her strengths, fearlessness and ninja-esque stealth definitely play a huge role in her ability to get into mischief.
Thank you to everyone that was able to make it to Hugo's 3rd birthday party, phoned, sent emails and SMS'd us and especially those that traveled; it means the world to Claire & I. Hugo had a fantastic day hanging out with his extended family, was spoiled beyond belief with some absolutely beautiful presents and was completely exhausted by the end of it.
Next up, fabulous four!