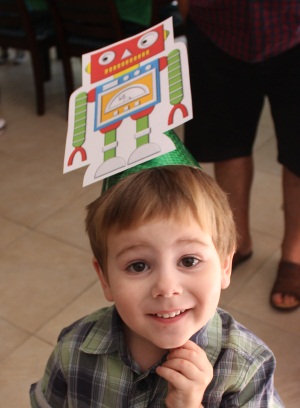 Hugo turned a whopping four years old last Tuesday and he has had a great week of celebrations.
His birthday started off in the usual fashion, we opened presents in the lounge room first thing. It wasn't open season though, we had to get Evie up first so she could 'assist' with the present ceremony. We sat around on the lounge room rug while Hugo worked his way through a little pile of presents, some big and some small. Among the presents in the morning was a see-saw, Lego fire truck, double loop Hot Wheels track that didn't need batteries including two new cars, Lego stationary holder, Wii steering wheel, The Gruffalo DVD, a wooden tea set and some gardening tools.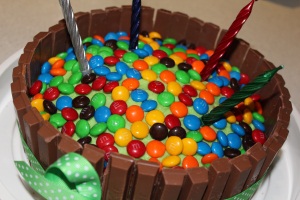 Sterle, Lorraine and Jean popped over in the afternoon and Hugo was spoiled again with some wonderful presents, a particular favourite is an amazing electric keyboard just like Grand Dad Sterle has. Since it was Hugo's birthday, he chose McDonald's for dinner – not our collective favourite but then again, it wasn't our birthday – which was followed by birthday cake!
Later in the week, Hugo celebrated his birthday again when he attended Kindy. Hugo was pretty chuffed about the whole celebrating his birthday twice and there was more sweet treats consumed.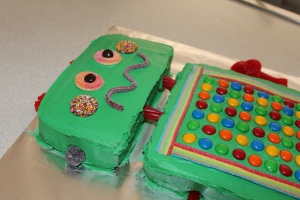 The major shindig was on Sunday morning, where we had George, Jude, Sterle, Lorraine, Jean, Nigel, Trudy, Noah, Anita, Emily, Will, Oliver, Mila, Lucy and Michael arrive for the festivities.
Hugo had decided that this year we should have a robot theme with a mix of space stuff. The hanging items went by many names but Hugo decided that he would call them planets, I'm okay with that. This was accompanied by a selection of his favourite foods like kiwi crisps, M&M's, Cheezels and much more. Claire did an amazing job of organising, food and decorating as usual with Happy Birthday Hugo on the wall and groovy robot party hats; Evie is still wearing hers around the house three days later!
There were so many fantastic presents from family that I don't know where to begin and the list is far too long to list out, so I'll just say a massive thank you on Hugo's behalf. Hugo is a loving little man and gets very excited about our extended family get together's. He loves seeing all of his grandparents, uncles, aunties and cousins, especially since that means he gets to play with everyone.
I can't believe next year he'll be a five year old, look out world!