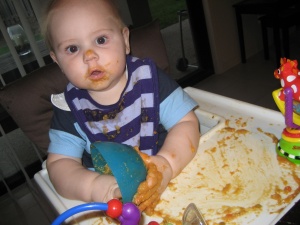 During dinner a little while ago, Hugo managed to get his hands on the bowl with his dinner in it.
I didn't witness the frenzy that followed first hand, however Claire tells me that the bowl was in Hugo's hands momentarily before he plunged his other hand into it.
He was having such a fantastic time, squishing the food between his fingers, tipping it onto the table and wiping it all over the baby seat that Claire let him play for a while.
A baby can only get so dirty afterall!