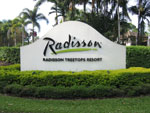 To relax after the wedding, Claire and I went up to Port Douglas in Tropical North Queensland. For something different, we stayed in a Radisson Resort, aptly named the Radisson Treetops Resort.
On arrival, our checkin was simple and fast. We were directed to our area of the resort. Soon there after, is where things started to get just a little scary. We had booked a Deluxe King room, which weighed in at about $350 per night, not including any breakfasts. When we entered our room, we were shocked it wasn't bigger. It wasn't that it was small, however I didn't think it reflected the price at all. There was dust on the furniture and outside our glass doors there was construction going on; which I guess is where it was coming from. Thankfully, I received an industry rate for our stay – however, even at the discounted price I was a little disappointed.
Moving on from the room, the rest of the resort was very nice. They have two restaurants at the resort, the Outback Bar & Grill and The Wharf. The Outback Bar & Grill is a relaxed environment, overlooking the pool. The breakfasts were quite good, offering a buffet early in the morning and a late breakfast menu until 11.30am. The lunch meals were nice, however at times a little slow to come out – while the dinner meals were excellent. The Wharf was an different environment totally, offering a fine dining experience. The meal we at at the Wharf for dinner was absolutely fantastic, while dessert didn't disappoint either. They also have a cocktail bar named the Cockatoo Bar (meet BoBo) there too, which has someone on the piano and singing most nights. I didn't catch the blokes name but he was very good, we really enjoyed relaxing there, listening to some good music.
The staff at the resort were all very nice, offering a generally relaxed style of service. The one problem we had was with breakfasts at the Outback Bar & Grill. Claire is gluten intolerant, which basically means she can't eat anything with wheat in it or it makes her sick. We repeatedly asked, asked and confirmed, asked checked and confirmed with the waiters that the meal was to have no breads on it. As sure as the sun rising, every single one of them came out with bread on the plate or food sitting on bread. Simple request, very frustrating to have to reiterate yourself over and over again, to the same set of staff each morning – having them stuff it time and time again.
Overall, the I would rate the whole Radisson experience in the ok-good range. There were positives and negatives along the way but we still enjoyed ourselves and had a relaxing time. If we'd have paid full price for the time we stayed there, the rating would have fallen more in the below average-good range I think.