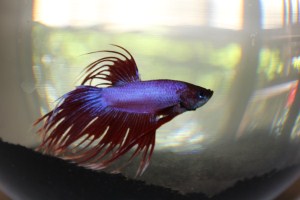 Anita dropped in yesterday to wish Hugo a happy 3rd birthday and gave him a spectacular present, a crown tail Siamese fighting fish!
When Anita asked Claire what a cool present might be, Claire suggested a pink fighting fish because pink is one of Hugo's favourite colours. Of course, not knowing what colours fighting fish come in, we were shocked to see a beautiful pink/purple coloured fighting fish arrive.
Needless to say, Hugo is very excited by Finnegan and regularly stops to gaze into his bowl and drag one of his chairs over to get a closer look. Throughout the course of the day, Evie managed to say "fish!" a few times as well. In case you were wondering, the exclamation point is there deliberately, Evie says fish with gusto.