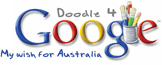 Google are running another Doodle 4 Google competition and this time it has been opened up to school kids across Australia. The basic criteria is simple, take a template of the Google logo, decorate it with a given theme – in this case 'My Wish For Australia' and provide your the reason behind your artistic efforts. The submissions are in and you can vote to see one of the doodles gracing the Google Australia home page.
I'm really digging the following, they meet the general design pattern that Dennis Hwang uses for the official Google doodles and you could easily see them dropped into Google and not look out of place. The exception to that is the last one, "Deadly" by Darcy McBean – as it doesn't use a white background, however I thought it was a striking looking doodle and was worthy of being put forward.
Which ones do you like, either from within my shortlist or from the greater set on the Doodle 4 Google site?