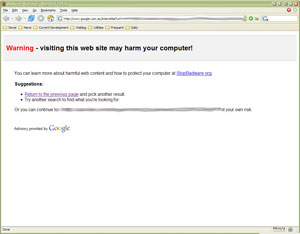 I was recently searching for information using Google and was suprised to see that they have integrated a malware blocking service into their search results.
As Google are indexing the internet, they are always taking into consideration what content is on your site. They are now using that information to warn their users of a web site which might contain suspect or malicious content.
Personally, I think that it is an excellent service to provide the Google user base. A lot of people who simply 'use' computers aren't aware how easy it is for their computer to become infected with all sorts of nasty stuff. At least if they are confronted with an intermediary page as listed above, it will make the users think twice about viewing the site or using any of the content/services which they may provide.