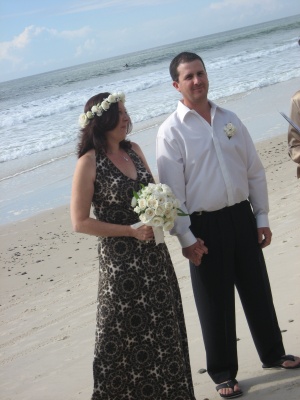 Last Friday Claire, Hugo & I attended our first beach wedding. Not having attended a beach wedding before, we were quite excited to see how it all turned out and it didn't disappoint. After experiencing a Gold Coast beach wedding, I'm quite sure that Gold Coast beaches would rival any in the world for a spectactular venue with kilometers of golden sand and clear water.
We arrived at Currumbin Beach at about 10:00AM, found a park and walked briskly down to where the wedding venue was – as it took a little longer to get there than expected compounded by a wrong turn! I haven't taken the pram onto loose sand before but with hard tyres it didn't fair all that well so I parked the pram at the top of the beach. The entrance to the beach itself was down a relatively steep section of sand to get to the flatter section where the wedding ceremony as going to be held. While walking down it, I was actually thinking to myself that I hope noone slipped in the sand – good fortune prevailed and there were no accidents.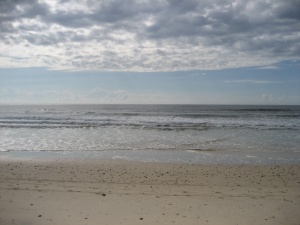 A couple things that were fantastic about the beach wedding, was that it had a magnificent outlook over the beautiful beaches on the Gold Coast and it was very intimate with about 20 guests. I always associated weddings with men in black suits dressed up to the nines and the women in beautiful gowns. It came as a small but funny surprise when the groom arrived in a slightly casual suit, with classy looking black thongs in place of black leather dress shoes! Likewise, instead of the bride wearing a flowing gown that would have dragged over the sand, it was ankle length and wore fancy sandles in leiu of high heels.
Ceremonies at weddings tend to vary wildly, some are short and to the point while others are long winded and drawn out. This particular beach wedding was the former, taking about 15 minutes from start to finish. It was incredible to have the ocean literally 20 meters away from where everyone was standing, with the waves crashing in the background. The only downside, if you can call it that, was that there was just enough noise from the ocean that it made it difficult to hear the celebrant in a few points but it didn't last long.
I now know what the fuss is about regarding beach weddings, they aren't for everyone but if they are – they are spectacular.