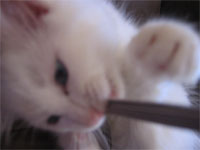 Princess, meet the internet; internet meet Princess! Friday evening saw a new addition to our little family, a 12 week old Ragdoll kitten!
It is Claire's birthday on the 11th of April and Lucy (Claire's younger sister) wanted to give something to Claire she knew she would love to death. Claire and I are both big cat fans and over the last 5 years we've had two. Our first one Felix (luxurious short thick dark grey hair) was unfortunately hit by a car, while our second one Ebony (jet black Permese) is on a permanent holiday at my parents place in Chinchilla.
Lucy and I have been colluding about the purchase of a new kitten for the last 4-6 weeks. It was my job to quietly work out which breed of kitty Claire really wanted this time; we short listed the Burmese and Ragdoll. After some appropriately timed discussion, the Ragdoll won! I informed Lucy of the choice and she then went about finding breeders in south east Queensland to purchase them from. After chasing a few up, the Braveheart Ragdoll Cattery at Bundaberg got the nod.
The little bundle of fluff came with a swag of other goodies from Lucy as well:
a sleeping mat (like sheep skin)
very cute food containers
toys
kitty litter tray and litter
food
…
Needless to say, Claire and I are super excited to have another little kitty in our lives – they rock. A huge thank you to Lucy for organising the whole thing, you've made Claire and I extremely happy.
From now on, expect frequent, extra cute photos of Princess appearing on the site!