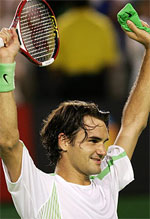 Read all about Roger Federer winning the 2007 Australian Open.
Swiss No.1 seed Roger Federer has claimed the men's title at Australian Open 2006 after a brilliant comeback against unseeded Cypriot Marcos Baghdatis to win 5-7 7-5 6-0 6-2.
Roger Federer claimed the win after recovering from being a set and a break down to Baghdatis. During the first set, both players were exchanging blows frequently and by the end there were only a handful of points between them. One of the most telling points of the first set was the first serve statistics. The Baghdatis first serve wasn't quite as consistent (lagging by a few percent) however he won a staggering 85-90% of the balls compared to 65-70% from Federer.
The second set continued where the first ended with Baghdatis bringing it to Federer from the baseline and being rewarded with a break. At this point, it seemed possible that he was going to streak to a 3-0 lead. Federer was forced to change his game, slowing the pace down, offering a lot more slice backhands to Baghdatis and continued to press on. It seemed a strange tactic at the time, presenting a slow moving ball to the magnificent Baghdatis backhand. When Baghdatis was forced to generate all the pace, cracks started to show in the armor and unforced errors crept in. Federer recovered the break and towards the end of the set upped the ante, taking it 7-5.
After Federer took the last few games of the second set, there was a momentum shift and Baghdatis felt was it was like to be on the receiving end of Federer when he is freely hitting. With nothing to combat the pure excellence of a free hitting Federer, he stormed through the third set 6-0 and Baghdatis was left wondering what had happened.
The fourth set continued in a similar fashion with Federer dominating. Roger took an early 3-0 lead in the set when there was a chance for Baghdatis to get back in. Unfortunately, after having a short lived cramp in his left calf muscle – he couldn't muster the intensity to run down the balls Federer was firing at him. Federer took the fourth and final set 6-2.
At the presentation ceremony, Federer was speechless. Once he collected his thoughts, he managed only a few words before he broke down in tears with the emotion of the moment. After winning this years Australian Open, Roger has now been elevated even further into the history books. This particular win puts him in the esteemed company of only 2 other men to win three consecutive Grand Slam tournaments, Rod Laver and Pete Sampras.
There has been some fantastic tennis played over the last fortnight and its safe to assume that the name Marcos Baghdatis will be on the radar of every top 50 player in the world after the Australian Open this year.