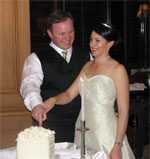 Another year is behind us, its been crazy and I can't believe its gone already.
In August 2004, I moved to the Gold Coast for a new job; meanwhile, Claire was still under contract at Middle Ridge Primary School in Toowoomba. She completed her contract there and moved to the Gold Coast with me at the very end of 2004. Once we moved into our new apartment, and we began nesting:
In May, I moved my hosting from HostCentral to McGooHQ. In the last 8 months, the service has been near perfect. To my knowledge, the site hasn't had any significant downtime and on the occasions when it was offline – it was out of hours for scheduled maintenance. If you're looking for a fast, reasonably priced Australian owned and powered host – give them a look.
On September 24th, I married my high school sweetheart. It is no surprise that the preceding months were spent preparing for the wedding. It was a glorious day, Claire was breathtaking, literally. The whole day went smoothly with no problems at all, hats off to the staff and organisers at the Stamford Plaza, Brisbane. A big thank you to both mine and Claire's parents, for without their help in lead up to the wedding – it would have never been quite as spectacular as I think it was.
August this year saw my first year with my employer slide by. Without question, the last 16 months have been an amazing roller coaster ride to remember. The first day I started, I was pointed to the source code for a site that takes between 600,000 – 800,000 hits per day and essentially told to knock myself out. At that stage, there wasn't a development database or website – so it was all being done live! Since that time, our team has increased from 5 to 15 staff and procedures, standards and best practices are being implemented. Soon we'll be on track to doing things The Right Way™ instead of The Wrong Way™. I have to give a big thank you to the blokes I work with, they've made this time fun and enjoyable in an otherwise fairly tough work environment.
On the whole, its been a fabulous year with a lot more high than low times. I can only hope that 2006 brings even more highs and less lows than we saw in 2005.