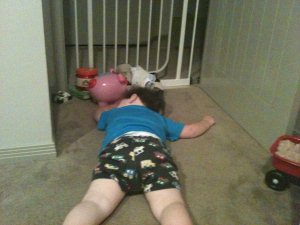 Since Hugo was a baby, he has had a little bull plush toy named Boris.
Originally, Boris was just a sleeping aid for bed time but little bit by little bit was allowed out of his cot until Hugo took Boris everywhere with him around the house & in the car.
When Hugo upgraded from the cot to a big boy bed, we noticed a peculiar behaviour – he wanted to bring other things with him into bed such as a favourite toy car.
Now that Hugo can get out of bed, he regularly selects favourite items from around his bedroom to have in his bed with him at night time. At the moment those toys are a pink money box pig, a plastic container with a bunch of cotton reels and string, a wooden toy bus and a plastic motorcycle police officer.
Hugo also gets out of bed at night time and sleeps by the door of his bedroom on the carpet. Before the new behaviour started, it was just Hugo and Boris – however now that he has treasures, they have to come to!