In the mid 1990's, a group of the Lattimore and Morrison family whom live in Australia made our way back to New Zealand to relax and catch up with our extended family. While in the South Island of New Zealand, the weather was perfect for snow skiing and we made our way to one of the most well known New Zealand skiing holiday destinations of Queenstown.
During that trip, my older brother Cameron and I were exploring the Queenstown shops and found our way into a tourist style gift shop – full of the obligatory items such as stuffed Kiwi plush toys. One of the things that caught my attention while looking around were necklace pendants made from jade in the shapes of traditional Maori tribal markings. I was quite taken by them and on a subsequent visit to the shop, picked one up to bring home to Australia.
Once putting on the necklace, I didn't take it off for months and it turns out, for good reason. As summer approached that year, I was around at a friends place to cool off in the pool. No wanting to damage the leather necklace strap, I took it off and sat it on a near by seat. You can imagine how horrified I was when some friends were fooling around beside the pool, knocked the chair and the jade pendant hit the bricks and broke in half! I couldn't bring myself to throw it out, so I thought I'd see if I could repair it and thanks for some an unknown super-esque glue available at the time – it worked a treat.
Since fixing it that afternoon, I have literally taken it off a handful of times in over 10 years. When I say handful, I mean literally, I could count the times on my fingers – so few in fact that Claire hasn't seen me without it in over 10 years. It has survived football, soccer, karate, tennis, swimming, water skiing, wake boarding, motorbikes, BMX, rollerblading and every other thing I can imagine and it made it through completely unscathed.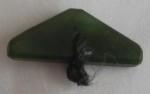 Enter our beautiful son Hugo in September 2008, positively gorgeous and has little fiddle fingers. He takes great delight in touching, grabbing, fiddling, smooshing, yanking or banging on anything he can get his hands or feet on to. For the last month or so, he has loved fiddling with my necklace and it has stood up to the test – until last week when, after years of wear and tear – is finally undone by an eight month old baby boy!
The question on my mind now is – after it being with me for such a long time – should I replace the worn leather strap and return it to its rightful place around my neck or simply move on?