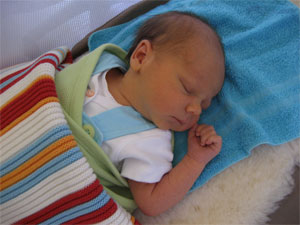 Claire and I became parents for the first time on Thursday 4th September at approximately 12:50PM when we welcomed a little boy named Hugo Rankin Lattimore into the world.
Hugo weighed in at a neat 3840gm or 8lb 8oz in the old scale and was 52.5cm long. According to the height/weight charts for births, those figures places Hugo roughly within or just above the averages for births.
Claire and Hugo are doing really well and we're extremely proud, excited and blessed to have such a wonderful addition to start our family.
More to follow!