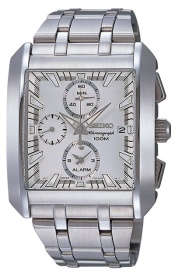 On the same trip to Brisbane when IÂ  overcame temptation, I put a new Seiko chronograph watch on lay by.
This Seiko watch is part of their Conceptual series, though you'll have a hard time finding information about them on the Seiko web site. As an aside, having to stumble around their site to find information it really does drive home how important having a quality web site that is up to date with product information is. In the end, the only way I could find information about it was going through the advanced search page and applying the appropriate number of filters to whittle the results down.
As you'd expect, It comes with the standard set of features:
water resistant to 100m
date
1/5s high precision stop watch
alarm
An alarm isn't a revolutionary feature on its own, however it isn't something that you normally see on an analogue watch. I don't expect it is something I'll use all that often, I use my mobile phone as my alarm clock but in the off chance I don't have that with me – it might prove useful at some point.
I think it is a pretty snazzy looking watch myself, what do you think?