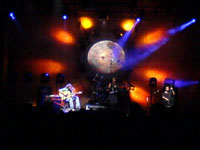 The John Butler Trio are currently on their Homeward Bound National Oz Tour.
On Sunday, it was Brisbane's privilege to host the band at the River Stage. For those that don't know, the Brisbane River Stage is a semi-natural grassed amphitheatre backing onto the Brisbane River. It has space for about 12,000-15,000 people in a mixture of sitting and standing.
I have had the pleasure of hearing the John Butler Trio play twice now. My first encounter was in 2004 at the Toowoomba Empire Theatre, for his initial Sunrise Over Sea tour. The atmosphere that a theatrical theatre provided was surreal, it was electric. Claire and I left the concert in total awe; we would have bought another set of tickets and gone back in to hear it all over again.
My second encounter was at the River Stage. Since it's a large outdoor area, I didn't think the concert would have had quite as much impact – I was wrong. The sound was excellent and loud, very loud. The River Stage would have been at close to capacity I think, with 10-12,000 people there. Everyone was well behaved, which was great and for the most part everyone remained seated (where appropriate) so that everyone could get a great view of the concert.
Andrew came with me this time, it was his first John Butler experience and he was thoroughly impressed with the talent on display. This first thing that hits you is the array of unique sounds he manages to draw from his guitars, superb. Once the first song or two are over, you then get to appreciate just how hard he is playing when he starts ramping up into some of the faster songs – wow. As the concert progresses, the other band members are taking more and more of a role, until at times they are the sole focus of the music and John is backing them.
Even though we were outside with a huge audience, John still drew you in. At one point, he unplugged the leads from his guitar, walked to centre stage and played Peaches & Cream into a single microphone. He asked the audience to try and remain quiet and it was, as before, brilliant. There was another instance where John was backing the drummer and he is literally urging the drummer to go harder and faster. That was a display of absolute percussion talent – I think everyone was lifting their jaws, the roar of the crowd when it finished certainly backed that.
The three photos were taken by Andrew on my Sony Ericsson K750i mobile:
There are songs on the Sunrise Over Sea album where John's guitaring has you in awe, however as impressive as it is, it isn't a scratch on what he delivers on stage. John has an absolute gift for the guitar, which is hard to explain unless heard live. If you ever get the chance to see him live at a town near you, I would whole heartedly recommend you purchase the best tickets you can get your hands on and enjoy the ride – pure brilliance.