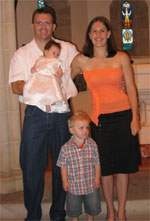 On Sunday 6th February at ~11.40am Jade Ellousie Salisbury was Christened. Claire and I took the trip to Toowoomba for the occasion!
It was held at Saint Lukes church at about 11.15am, however given there were other parents with kids coming, it started a little late. Everything went smoothly and their little bloke Fletcher, thought the alter was just fantasic, couldn't keep away from it!
Once it all got underway, there was a little bit of the standard church stuff and then the christening. Baby Jade was very well behaved and didn't put up much of a fight at all, which was a kind gesture from her I think.
While Rachel, Stuart, Fletcher and the Minister were up on the blessing area, I was in charge of taking some photos for them. Not sure how that is going to go just yet, but we'll see soon enough.