Claire, Hugo, Evie and I are sitting down at the table eating dinner when a discussion takes place that goes a little something like:
Hugo: What did you do at work today Dad?
Al: I was trying to fix a website today mate, it was broken.
Hugo: Ohh, okay.
A few minutes lapses.
Hugo: Dad, I know what is wrong with the websites!
Al: Really, what is wrong with them?
Hugo: Did you check that the power is plugged in and turned on?
Al: No, I didn't think of that – I'll tell my boss Shaden about it tomorrow.
A few minutes lapses.
Hugo: I'll write your boss Shaden a letter so she doesn't forget.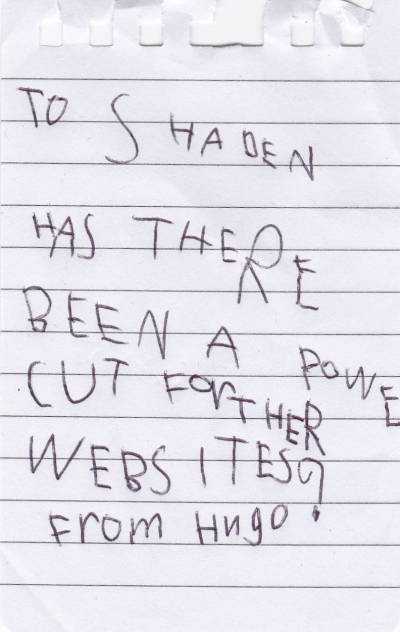 Later that week I was on the phone to Shaden and I though she'd enjoy getting a glimpse into the mind of a five year old boy, so I scanned and emailed it to her the next day. Shaden thought it was super cute and so did a few of her collegues in Sydney.
I told Shaden that if she wanted to make Hugo's day, that she should write and post a letter back to Hugo. Hugo loves keeping special little things and I knew that he'd think this was the best thing since sliced bread and it'd go straight to the pool room.
The following week I kept an eye out in the post for a letter from Shaden and it arrived, however instead of a plain old letter – it was a small parcel in a bubble wrapped postage bag which contained:
a letter
a pair of Wotif sunglasses
a small bottle of Wotif SPF30+ sunscreen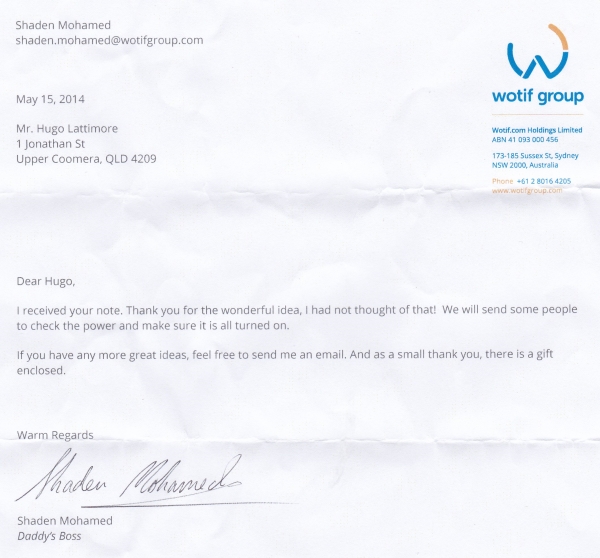 It's a small thing but I love that Shaden took a couple minutes out of her day to reply to Hugo, he absolutely loved it. What I think might be even more awesome is that she signed it off with "Daddy's Boss" which I mentioned to Shaden on the phone because that is how Hugo and Evie often refer to Shaden.
As a thank you, I sent Shaden a photo of Hugo sporting his new gear: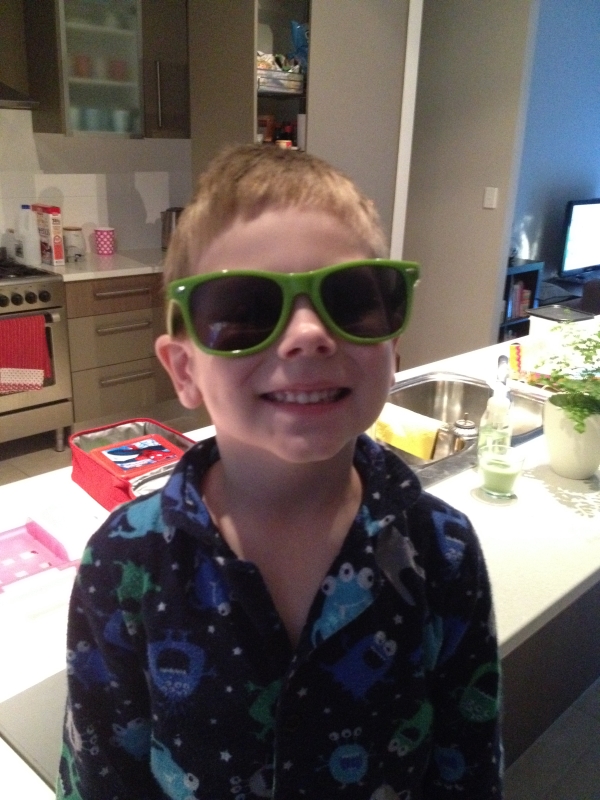 Pretty sure I have one of the most awesome bosses in the world.