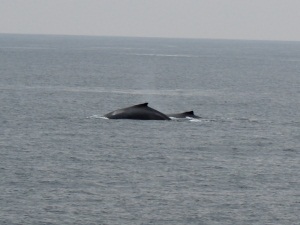 Friday morning I had the pleasure of going whale watching on the Gold Coast broad water with a group of work colleagues.
The whale watching tour was run by Tallship, we needed to arrive at the terminal for boarding at around 8:00AM and we departed from Marina Mirage at approximately 8:30AM.
After we set off, it only took a few minutes driving north through the canals before our whale watching host was telling us about different birds that were resting nearby and interesting facts about each one, which I thought was great. Soon thereafter we turned right at Wave Break Island and started towards the Gold Coast seaway. On the southern side of the seaway you have Gold Coast Spit and on the northern side of the seaway you have the southern tip of South Stradebroke Island. It was a little rough as we moved through the rock walls of the Gold Coast seaway but it only lasted for a few minutes and then it was smooth sailing.
We continued cruising out into the open water for five to 10 minutes and before we knew it, whales! I'd assumed that during the migration period that the whales pack up shop and start making their journey north, but it isn't quite that straight forward. They leave in stages based around their age, we were seeing the middle group which were around 12 metres in length. In the next month as the whale watching season comes to an end, the largest of the whales will make their way north past the Gold Coast and are in the 16-18 metre territory.

There are rules and regulations governing how the sightseeing tour operators behave around the whales, such as only being able to go within 100 metres of them so they don't feel pressured/crowded. It turns out that whales are a curious creature and once the boats come to a stop – if the whales happen to swim right up next to the boat – that is not a problem. In fact, the host was telling us that last week people missed their flights home because the whales were swimming around their boat for 2.5 hours straight and they couldn't start their motors!
The whale watching tour went for around three hours and in that time, we saw countless pods of whales. Most of the pods were in groups of two or three but the host said from time to time, they see super pods which have over 10 whales in a single group which would be an incredible sight to behold.
Unfortunately we didn't get to see any whales breaching (ie, diving out of the water and crashing back down) but we did get lucky enough to have a whale swim right up beside the boat, roll over onto his back so we could see his underside as he gracefully glided past the boat and disappeared back into the deep water again.
It was an amazing experience to see the whales in person up close and personal. If you've got a morning free over the next month, I would highly recommend you take the time to get out and see them, it'll be an experience to remember.