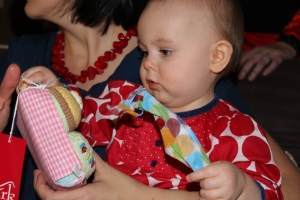 Yesterday we celebrated Evie's first birthday with a bit of a do at our place, it kicked off at 10AM and we closed up shop around 1:30PM when the candle was well and truly burned down with most of the little people in attendance.
Claire decided that a ladybug themed party ought to do the trick and set about creating a whole swag of items to boot, starting with cute handmade ladybug invitations, leaf garlands featuring tiny ladybugs, a not to scale ladybug cake and much more – very cute!
In attendance we had:
Anita
David & Karen
Emily, Will, Oliver & Milla
Lorraine & Sterle
Lucy & Michael
Nigel, Trudy & Noah
Phil, Tammi & Grace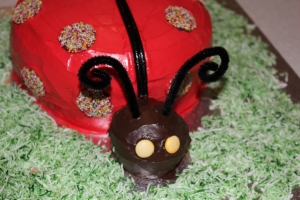 Everyone spoiled Evie beyond belief with some of the most gorgeous presents getting around. We've been really lucky actually, only the other day Claire and I commented to one another that Evie doesn't really have that many purely girly toys. After her 1st birthday, that has changed with some beautifully unique looking dolls, knitted toys and much more.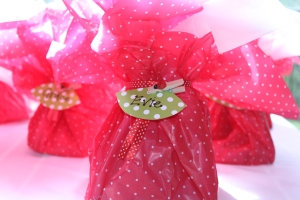 The boys had a great time playing together and between them managed to pretty much disassemble the play area in the living room and all of the toys. Suffice to say, it looked like they'd had fun! Watching Milla & Noah toddle off around the house was great, little people have such cute walking styles! It was nice to catch up with everyone, however briefly and have a quick chat. I think we need to find a way to do it more regularly that doesn't revolve around a birthday, they don't come frequently enough.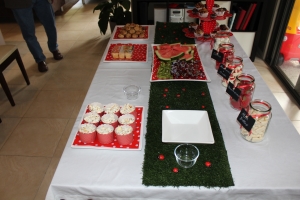 Thank you to everyone that was able to make it today, Claire & I really appreciate it and realise that you all needed to drive a distance to make it. A special thank you to Phil & Tammi for attending, they brought baby Grace along for her first birthday party and she is only a tiny we dot of a girl and around 10 weeks old.
Next up, a whopping second birthday this time next year. If we end up going down to the park again like we did for Hugo's second birthday, we're bound to have a great time again.