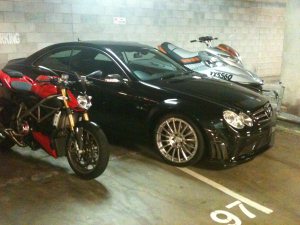 The Surfers Paradise car park located under Circle on Cavill houses a lot cars, which range in quality from complete crappers all the way up to the unobtainable.
One bloke in particular, I'm quite sure takes great pleasure in parking his car, his motorbike and his jet ski – spread across two car parks.
For those that don't recognise what is in the picture, the motorbike is a new Ducati which start at about $25,000. Next we've got the Mercedes SL63 AMG, which packs a 6.2L V8 producing 385Kw and 630Nm of rubber melting goodness and will lighten your wallet by about $440,000. To cool off, of course you need a Seadoo jet ski and they are about $25,000.
Amazingly, the guy that owns these three happiness creation devices is under 40 years old and if I ever get a chance to have a word – I think I'll feel compelled to ask him what the hell he does!