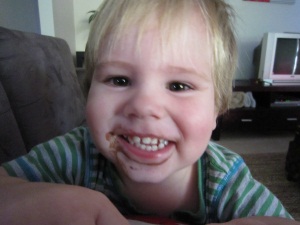 This afternoon for something to do, Claire thought it'd be nice to drop down to our local Baskin Robbins at Helensvale for an ice cream.
I ordered my favourite, Chocolate Mousse Royale, which is a decadent rich chocolate ice cream with chocolate flecks throughout and Claire ordered Cookies 'n Cream.
Every time in the past we'd offered any ice cream to Hugo, regardless of flavour – he'd put the smallest amount in his mouth and quickly turn his nose up at it.
For some reason, maybe just because he is a little older this time around, the immediate nose turning didn't happen. Claire gave him a tiny bit, he pondered on it for a little while, which was soon followed by "please" – which is Hugo's way of asking for more at the moment.
When we returned home, he was more than happy for me to keep giving him tiny little amounts on the tip of my spoon. Not wanting to miss out, he tried out the Cookies 'n Cream from Claire a number of times as well but I think he preferred the Chocolate Mousse Royale.
Next up, Mint Chocolate Chip – Claire will be horrified.