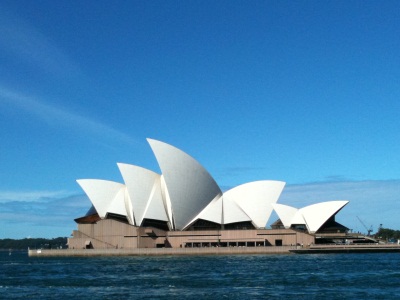 I was in Sydney between 21-23 April, where I attended my first 'marketing' conference since moving from the Mantra Group IT Department at the beginning of 2009. The conference in question is called Search Marketing Expo or SMX for short and is held in numerous locations around the world, where the top minds in their respective fields are invited to present on their chosen specialty.
I packed my bag the night before and was up at sparrow fart on Wednesday morning. On my way down to Coolangatta Airport, I made a detour into Southport to pick up Stephen. The drive to the airport was hassle free, however I couldn't believe how many cars were in the long term parking – it was all but overflowing with cars parked up on the edges of grass. The flight down to Sydney was delayed for some reason but it was good to hear regular updates over the speaker of the progress of the delay. Stephen has recently returned from a few weeks in Japan and has been regaling everyone of his fantastic time over there. A few things that have come to light in his travels, which have subsequently become crystal clear to me – we do a spectacularly poor job of catering for non-English language people.
After arriving in Sydney, we took a cab to Sydney city. Being used to Brisbane and Gold Coast airports being quite a distance away from the central business district, I was expecting a lengthy drive and a cab fare to match but was really surprised by the close proximity of the airport to the city. Stephen & I spent what time was available on Wednesday inspecting a couple of the Mantra Group hotels. It's always nice to be able to walk around a hotel, find out what it is near from the point of view of a guest – it highlights a lot of things that you don't get a sense of until you've actually been there. From an employee or company stand point, it was also great to see how well we're doing with consistency of presentation and services at the hotels – yet another thing that is hard to judge until you've been there in person.
Stephen & I stayed at one of our Sydney hotels, Mantra on Kent which is located on Kent Street and is only a block away from Darling Harbour. Not because we'd organised it, however we ended up in 1 Bedroom Deluxe apartments on the 27th floor. There was plenty of room, the bed was comfortable, had a flat screen TV, a great bathroom with good views over the Sydney city. We enjoyed a full buffet breakfast each morning as well, which was really delicious.
After inspecting a couple hotels, we walked down George Street towards Circular Quay and The Rocks. Of course, having not been to Sydney before – I had no idea where I was going and was relying and Stephen and the magic that is Google Maps on an iPhone. As we approached Circular Quay, we came across a large grassed area with a heap of people just relaxing, chatting and eating their lunch. I wasn't expecting it at but was great to see people taking advantage of such a great space. A few moments later and suddenly I could see the tips of the Sydney Opera House. I think every Australian has seen the Sydney Opera House countless times on TV but seeing it in person, even at a distance was remarkable. Another five minutes of walking and we were down at The Rocks and the Sydney Harbour Bridge was our back drop. While I'd always known that the Sydney Harbour Bridge was big, seeing it on TV or engulfed in fireworks really doesn't give you any appreciation for just how large and visually spectacular it is – it really is impressive.
I managed to sample a couple different foods and restaurants while in Sydney, all in the city centre. The first was a Mexican take away restaurant named Guzman Y Gomez and it was possibly the single tastiest take away food I've ever eaten – I really wish we had one on the Gold Coast. For dinner, Kingsleys Australian Steakhouse was on the agenda as Stephen had eaten there before. When I read the menu, I actually joked with Stephen whether or not it was pretty much going to be a great piece of meat and potato and he confirmed my suspicions – that was fine by me! The second evening, we were taken out to a restaurant sitting behind a nightclub, though I can't remember the name. The food was great and for dessert I had my first chocolate fondant – that was something I could eat regularly! We were our really late that night, not that we realised at the time – I don't think we really finished eating until around 11PM and didn't make it to bed until circa 2AM.
The Sydney CBD is a really nice area, lots of great looking buildings – plenty of older classically styled, mixed with new modern design. Probably the most surprising thing for me was, the apparent lack of people within Sydney city. For some reason, I had it in my mind that the city centre was going to be absolutely abuzz with activity – however it wasn't any busier than Brisbane – in fact I think it was probably less busy. On our way back to the airport, we left early to make sure we could find taxi rank and actually make it to the airport on time. That turned out the be the best decision we'd made, as it turned out there was traffic pandimonium on the Friday evening leading into a long weekend. The taxi driver we had was great, an absolute ninja behind the wheel and was tearing through the traffic and he highlighted numerous times that he is intimately aware of the spacial requirements for that car to fit between other objects – wow.
Overall, I'm really impressed with what I saw of Sydney. While horribly brief from a sight seeing standpoint, its certainly somewhere I want to visit again with Claire & Hugo at a less frantic pace so we can get out of the city centre and really take in the beauty that is Sydney.