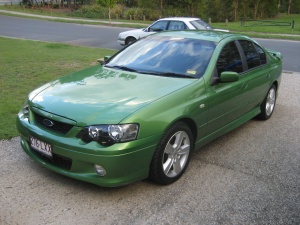 Last week our family took the next logical step in preparing for the arrival of our second child toward the end of May – we bought a family car.
Claire bought her 2003 Mazda 323 SP20 in 2004 with less than 10,000km on the clock when the original owner decided that she wanted a Mazda 6 instead. In that time, Claire and I have clocked up about 120,000km on the Mazda and it hasn't missed a beat.
The downside of the Mazda 323 hatchback from a family standpoint is that the mount point for the child restraints are at the rear of the boot, just in front of the latch for the hatch boot lid. The engineers who designed that component clearly don't have kids, as for the life of me I have no idea why a car manufacturer would put a child restraint point in that position as the straps severely interfere with the storage space in the boot. It'd have made much more sense to me to have them on the back of the rear seats, that way the boot space in the hatchback is maintained.
Claire and I toyed with the idea of keeping the Mazda for a little while longer but after more discussion amongst ourselves and with family, it seemed as though it was really going to be a major pain – especially once we added in a second set of restraints.
With that in mind, we went on the hunt for a replacement vehicle in the fourth quarter of 2009 but were unable to find something we were interested in at the time. Fortunately we weren't in any particular rush at the time, so were happy to bide our time to wait for something to pop up and as they say, patience is a virtue.
Claire stumbled onto a 2004 Ford Falcon XR6 on Car Sales and thought it looked fantastic, even with the little rear spoiler! We submitted an inquiry to the Car Sales web site to get in contact with the dealership and when I drove down to Hinterland Toyota at Burleigh to have a look at the car and was completely impressed. The exterior of the car was absolutely pristine, hadn't been in an accident, no dints, no marks and only a few light grazes on one of the mag wheels. The interior of the car was the same, no wear anywhere in the car or pulled threads in the fabric – it was if the car hadn't really been used in the last six years. On top of that, with about 95,000km on the odometre – it really hasn't seen a lot of driving for a car of that age either.
Dealing with Hinterland Toyota was a very easy experience as well, the sales staff were happy, polite, efficient and weren't pressuring me into a decision. It took about two hours to have Claire's car valued, which they were happy to do without any real notice when I arrived and were transparent with costs as well which I think is great too. An added bonus of Hinterland Toyota which I didn't expect was that they offer 175,000km warranty on their vehicles, fixed price servicing in either their Nerang or Burleigh locations and their service centres are open until 11:30PM!
After everything was sorted, handover of the vehicles took less than 30 minutes and I was on my way in our new family car. I provided our personal particulars the day before we took delivery, which meant all of the paper work was ready for me when I arrived – simple but great time saver. I was really surprised it was such a short change over process, I recall spending literally hours at Eagers Mazda in Brisbane when we bought Claire's car initially – so this was a welcome change.
Claire and I are really happy with our new family car. Claire couldn't believe it had a slight burble, I think I mentioned it was a happy coincidence. Of course, Claire being the motor head that she is, proudly exclaimed to the world that she now feels like the typical Australian bogan mother – awesome!
I have to thank our parents for their continued advice, help and support over the years. I think if Claire and I can provide as much guidance to our children when they grow up as ours have to us – we'll be very very proud as it has meant a tremendous amount to the both of us.