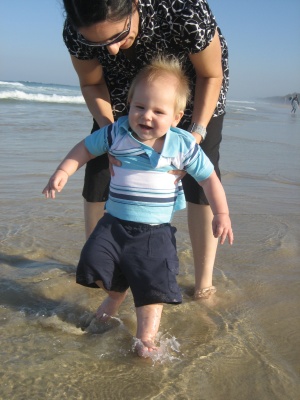 Claire, Hugo and I recently had a weekend escape to Kingscliff on the Tweed Coast in Northern New South Wales. It takes between 30 and 40 minutes to get to Salt Village from the Gold Coast. Claire and I had been to Salt Village outside Kingscliff previously, however it'd been quite some time ago. We figured we could find our way there by nose, which mostly worked but we weren't sure which road to take out of Kingscliff to get back to Salt Village.
We were booked into stay at Mantra on Salt Beach, one of three accommodation options available at Salt Village – the other two being Peppers Salt Resort & Spa and Peppers Bale Salt. When we arrived at the reception, we were also greeted by a friendly porter. I don't recall a porter when we stayed at Peppers Salt Resort & Spa last time, however it was great to have one available at Mantra on Salt Beach on this stay. The best thing was he took care of the luggage, which meant it was no hassle for Claire & Hugo. The other benefit I liked was he was able to direct me where to park in the secure underground car park to be close to the lifts that were servicing the section of Mantra on Salt Beach we'd be staying in – nothing worst than going up a lift into the wrong section of a building.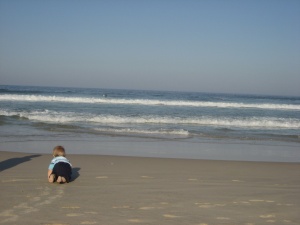 The room we had booked was a two bedroom ocean view apartment and we'd requested a portable cot for Hugo to sleep in as well. I was happy to find out when we arrived that the cot was already set up and it even came with a complete set of toiletries and linen – not bad for a little fella! It was setup in the master bedroom but Claire and I thought we'd move it into the second room. That proved a little harder than first thought as it didn't fit through the doorways easily and I couldn't manage to unpack it. A call to the reception and another staff member came up, unpacked, moved and set it up again in the other room in about 2 minutes flat – very efficient!
Hugo had his first real encounter with the beach, which was fantastic to watch unfold. Claire took Hugo down to the water to let the small waves roll over his legs and feet, which he took delight in – kicking and stamping in the water. It would have been great if the beach water wasn't quite so cool, I think he would have really enjoyed the waves. I wasn't sure what he was going to do in all the sand, so we put him down onto the firm sand to start with – which went without a hiccup and proceeded to move him into the soft, loose sand. He was fascinated by it, waving his hands furiously over the sand, hitting and knocking it everywhere and had an all round great time. After he had finished playing with the sand, he realised there was a big blue thing in front of him and took off towards it!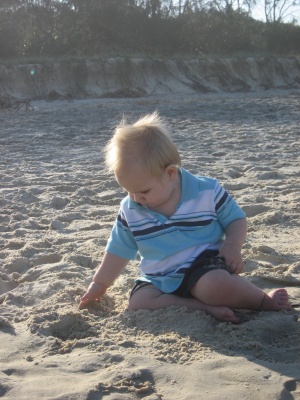 When Claire and I stayed at Peppers Salt Resort & Spa last time, we ventured into Kingscliff to have a mooch around and were happy to discover some great cafes and shops. The cafe we remembered had changed hands in that time, I tried a barramundi burger but I now realise that the error of my ways and will remember not to betray the beef gods next time. One shop we were excited to see was still operating was Boardwalk Books, a small book shop with good mix of mainstream reading and a fabulous range of eclectic books that you don't see in other book shops. We couldn't help ourselves and picked up a children's book named Everybody Poos and a book by Ben Mezrich named Bringing Down The House – the true story behind the recent "21" movie featuring Kevin Spacey.
You can't help but fall in love with Kingscliff, its small, quaint and is absolute beachside living. I think the Kingscliff Beach & Lawn Bowls Club must have the single greatest location of any bowls club in Australia – their backyard is the pristine Kingscliff beach. I imagine Kingscliff now is what the Gold Coast must have felt like back when it was still a tiny town growing up. Salt Village is also a really relaxing place to be, with the majority of the shops you'll need to simply remove yourself from the hustle and bustle of everyday life to unwind.
I don't know when we'll be back to Kingscliff & Salt Village again next but I'm quite sure I'm going to enjoy it.