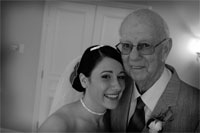 Today was an incredible day, for more than one reason.
Important Reason #1
Claire's Grandfather, Eric Colls passed away in his sleep at the age of 86 after suffering a stroke a few weeks ago.
Important Reason #2
Claire's older sister Emily gave birth to a healthy 8lb 8oz baby boy.
Reflection
It is hard for me to begin to explain the emotion we went through today, so I don't know that I'll bother trying. What I will say is that Claire's Grandfather Eric was fantastic. He was sprightly, quick minded and very funny. I always remember him constantly having a joke with us and telling us a yarn. He has lived in the Chinchilla area for most of his life, served our wonderful country in the Australian Army and survived the war. He has an incredible memory for history and can remember most of the people who have passed through the Chinchilla area over the last 50 years, which in my opinion is quite remarkable.
It has been an incredible day which I didn't expect; then again who would have expected it. The one thing I think is uncanny is that the expression about one door closing and another opening has been fulfilled in this instance. I'd like to leave you with something that I think sums up Eric in many ways, which was presented to him on an award recently by the Returned & Services League:
Your country called
You answered
We salute you
We'll sure miss you Grand Dad.