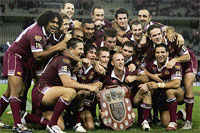 The Rugby League State Of Origin has been part of Australian culture since 1980 and this seasons series didn't disappoint. The State Of Origin is about pitting Australia's biggest and best Rugby League players against one another, where the teams are decided based on where you started playing football. Amazingly, after 26 years of State Of Origin clashes, the difference between Queensland and New South Wales is very slim – it's always a close game.
This evening saw the decider of the 2006 State Of Origin and it was held in Melbourne. After a fantastic start to the match, lots of hard running and big hits – the two teams were locked at four a piece. As half time drew near, it was clear that Queensland were feeling the effects of a very physical and fast paces first half.
Half time happened and both teams resumed with plenty of vigor and spring in their steps. Shortly, every Queensland supporter had to swallow their stomachs when the umpire and the video referee made two huge mistakes within about 10 minutes of each other! The commentators were absolutely disgraced at the decisions, even the New South Wales commentators were appalled. The side effect of these mistakes was potentially devastating, with the score now 14-4 in favour of New South Wales. Thankfully, the Queensland team rallied together and started to find some space through Thurston which was finally rewarded with a try. The clinching moment though, happened in the dieing minutes of the game when Hodgson threw a pass from dummy half that didn't find any team mates and Lockyer was fast to snap up the ball and score under the posts!
At the end of a hard 80 minutes of top notch Rugby League, Queensland managed to bring it home with a final score of 16-14, whilst winning the first series in three years.
QUEENSLANDER