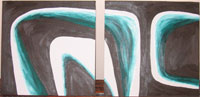 Today, marked my 25th birthday – yippee! Claire always manages to find me practical (which I like) but awesome presents, this year was no exception:
A pair of oil paintings. This was particularly significant as Claire has wanted to start painting again. With that in mind I bought her a new set of oil paints and brushes for Christmas. To have the first painting off the bristles is fantastic and I think they look awesome.
A pair of nice felt tipped pens to go with my leather document wallet and visual diary.
The Blade Trilogy DVD set and an immortal classic – Top Gun.
A ticket for the Brisbane Story Bridge climb.
At work, I have the pleasure of working with an amazing bunch of people. We are all quite young, with energetic personalities and we love to have a bit of fun. In keeping with that mantra, the boys put their minds to work for some presents:
As a small celebration, we (some of my family and some of Claire's) went out to dinner at Hogs Breath. As usual, the steak was fantastic and cooked to perfection. The Hogs Breath staff brought out a mudcake with a pair of sparklers and sang me Happy Birthday. I then attempted to demolish the mudcake, however after the big meal – I just couldn't finish it!
The day has been great, thanks for everyone involved in making it memorable. See you this time next year.