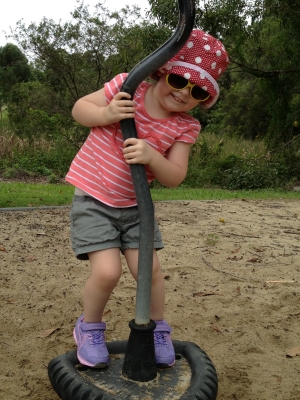 Claire bought Hugo and Evie a new pair of sneakers, which Evie refers to as sneaky shoes. While I was in Sydney during the week for SMX, Claire took them for a walk around our neighborhood in Upper Coomera – which they both liked.
Yesterday morning Hugo and Evie were chomping at the bit to go for another walk, so on with the shoes, socks, hats, sunglasses and we were off. I didn't think to ask Claire exactly where they walked, so I went in the same general direction but it would appear we trekked quite a lot further but the kids were okay with it.
In our journey down towards Reserve Road through a green belt we were walking along, we chanced upon a small playground. We stopped there for a break as we'd been walking for 20 or 30 minutes already and I thought I stood a better chance of getting them to walk the second half home with a small intermission.
I showed Evie how the spinning pole works and she was interested in me being on it but wasn't having a bar of it herself. About five minutes before we left, she stepped on, gave herself a shove with one foot and off she went! Evie played on it for a few minutes, spinning one direction and then the other – not fast but constantly spinning and was having a blast. What happened next was hilarious, she stepped off with both feet and was all dizzy. Watching her hold her balance while it was clear to see everything wasn't quite right was great and she had a big smile on her face for the next 30 seconds while everything leveled out!