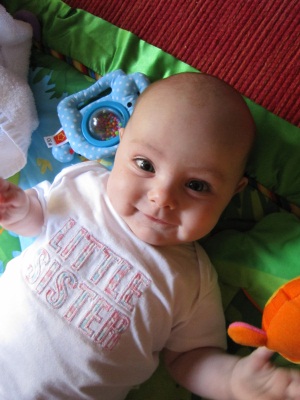 Evie is now four months old and and I can't believe that it was the end of July when Evie was two months old that I last wrote about her, time has just flown by.
One of the most rewarding changes over the last 2 months has to have been Evie developing her personality and finding her voice. Now instead of the simple sounds that she used to make as an new born, she can laugh, giggle and squeal in delight. On top of that, she has developed a fantastically expressive face and waking her up in the morning is pure joy – she is so happy to see you and is positively beaming with smiles.
In the last two months, Evie has taken countless trips in the car – some longer than others. So far, she has been pretty much a perfect child in that respect, she is happy to travel and just as happy to have a sleep in the car when she is tired. We've also been pushing her well outside of the routine that we've kept with Hugo & Evie as well, which she seems to tolerate quite well. Of course, depending on how far we go or how exhausting the event is that we're at – largely depends on how well she copes with the following day but it all balances out.
Being 4 months old has also meant that she has had her next round of immunisation shots at the doctor. The first set of injections, Evie grizzled a little but got over it without a hitch. I couldn't make it for the most recent ones, however Claire tells me she absolutely bellowed but it was thankfully short lived. While there, Evie had her measurements taken again and she is hitting all the right markers and then some – coming in at over the 95th percentile in weight and height.
Date
Weight
Length
Head Circ
18/5/2010
3.60Kg
49cm
33.5cm
21/5/2010
3.41Kg
3/6/2010
4.04Kg
2/7/2010
4.84Kg
14/7/2010
5.22Kg
57.5cm
37.3cm
21/7/2010
5.69Kg
58.5cm
38cm
29/9/2010
7.44Kg†
66cm
40cm
† Weighed with closes on
The last few weeks has seen Evie begin to really wiggle about when she is on her play mat and enjoying tummy time. She has worked out how to wiggle her way up on her play mat and twist her torso and hips nearly to the point of rolling over unassisted. While at Andrew & Belinda's recently, Evie did actually manage to roll over while on their sofa but we're not counting it as legit because the seat is on an angle but it was fun to watch nonetheless!
More to come, watch this space.