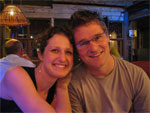 Claire and I have just returned after heading into Port Douglas for dinner. On the way back, we decided to stop by a cocktail bar, have a drink and listen to a guy on the piano. Not long after we got there, another young couple walked in and took a seat. When I looked at the woman, I thought I knew her, I just couldn't work out where. It was her hair that twigged my memory, it was slightly curly and a little bit whispy.
I went to get another drink and noticed that a guy had left his camera at the bar, so I handed it in. Someone checked one of the photos on the camera and returned it to the young couple, at which point I made a joke about keeping it – but didn't because I already had one. These few words were all it took and the female (Amy), asked what our names were and we were off and running. Claire had gone to uni and done German with her four or five years ago, what a small world.
After getting talking, Amy is now living in Canberra. We then find out that they (Amy and Andrew) are staying at the Radisson as well, what was the chance. We then find out that they are on their honeymoon too. What else could fall in line, they were married on the same day as Claire and I, the 24th September. Ohh, did I mention that they were engaged on the 11th, I proposed to Claire the very following day.
It was all fantastic chance that we ran into one another, I love it when that happens. We chatted for a few hours and have just called it a night. We've organised to go out for dinner tomorrow night and Port Douglas again.