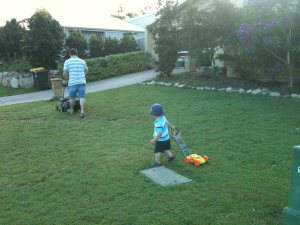 This afternoon Claire mentioned on facebook that she loves watching Hugo and I do things together, in this instance it was Hugo helping me mow the lawn.
A friend asked if Claire had a photo and I was going to link to an old post of this photo but for the life of me, I can't find it – so I apologise if I've posted this before.
This is an old photo taken in April 2010, so Hugo was just a little fella then and Evie wasn't born yet – seems like a lifetime ago already!