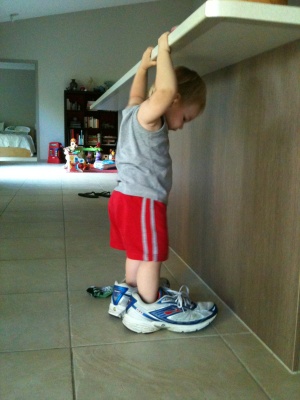 Hugo loves playing with things, it nearly doesn't matter what it is – he'll find a way to play with it. One of his favourite things to play with is our shoes, they could be thongs, flip flops, jesus sandals or running shoes – they are all fascinating when you're about 18 months old.
Normally Hugo picks up said pair of shoes and will carry them around the house, putting them in their rightful place – which is of course not necessarily where Claire or I might want them. However this time around, Hugo decided it was a perfect opportunity to put his feet into my running shoes.
Of course, once you've got your little feet into a new pair of shoes – the logical thing to do is go for a walk. Unfortunately on this particular attempt, Hugo didn't manage to walk very far with my shoes on but he did give it a red hot go. Next time he decides to go for a casual stroll in my running shoes, I'll try and get a little video of it!